Featured Item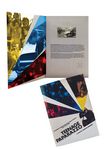 Video In Print Media Player For Custom P...
The perfect fusion of video, print, and sound. Incorporate high quality video content into any print collateral. Multiple screen sizes available. Up to 15 minutes of video content. Rechargeable batter...

Tee Shirts And Hats Dot Com
Welcome to Tee Shirts And Hats Dot Com!
Tee Shirts And Hats Dot Com can market and brand your business with more than 800,000 fully customizable promotional gifts and products!
Projects we've helped clients on include: gifts for clients or staff, golf tournaments, player of the month gifts, anniversaries, introducing new products/services, commemorative gifts and trade shows to name a few!
There are more than 800,000 custom-imprinted gift ideas on our site. Tee Shirts And Hats Dot Com has been helping customers for more than 20 years find new and exciting ways to build their businesses, increase their sales and grab market share!
Have questions? Upcoming projects you need ideas for? We will help create ideas, themes or creative and unique ideas for you…free! So please contact us at: